NHW Alerts
East Northants Neighbourhood Watch Alerts from Oundle Police & other sources........(last posted 15/03/18)
~~~~~~~~~~~~~~~~~~~~~~~~~~~~~~~~~~~~~~~~~~~~~~~~~~~~~~~~~~~~~~~~~~~~
15 March 2018 - "Please be aware that yesterday there was a white transit van, reg CU13 KRK in the area of Nassington. A male and female were seen in the vehicle and were seen to be helping themselves to scrap metal. This van was also seen later in the day in Kings Cliffe. Vehicle is on false number plates. If seen please make contact [101] and get a description of the occupants."
13 March 2018 - "We have had two calls this morning(tues 13/3) of a yellow/mustard transit van around the Oundle area looking for scrap and looking around properties. Containing 2 males.
If seen please ring 101"
"We have had several calls in relation to "Nottingham Knockers" across the district in the past 24 hours(tues 13/3) who knock on your door and try to pressure sale household products on the door step. Our advice would be not to open your door and if you are concerned please ring 101 as soon as possible so we can identify these people and they can be dealt with."
"Mon 12/3 - We have had tools taken from a commercial van in Collyweston Village; &
Theft of batteries, a gate and fencing in Ashton Village.
If anyone has any information on these crimes and/or any other crimes Please could I encourage you to report this via our 101 Police Number, alternatively you could also report this anonymously via Crime Stoppers 0800 555 111"
"We can't stress enough the importance of reporting suspicious behavior. Sometimes, people are reluctant to call 101 about behavior that they feel is suspicious because they believe their call will be a burden or unnecessarily tie up police resources. In fact, reporting suspicious behavior immediately can help police prevent or interrupt crime. A good example of this was the arrest of a suspect for a theft of motor vehicle in Wellingborough last night (11th March). This was only possible due to a resident being vigilant and reporting suspicious behavior."
"What is suspicious behavior?
If it's suspicious to you, it's worth reporting it to 101. Examples include
Unusual noises, including screaming, sounds of fighting, breaking glass.
People in or around buildings or areas who do not appear to be conducting legitimate business.
Unauthorized people in restricted areas.
Vehicles driving slowly and aimlessly through neighborhoods, around schools or parking lots.
People peering into parked vehicles that are not their own.
People who change their behavior when they notice they have been seen.
People dressed inappropriately for the weather or occasion, (i.e., heavy coat in warm weather)."
11 March 2018 - "This warning follows an incident on the A43 at Deene yesterday (Saturday 10th March) where a male trying to flag down vehicles was recognised as previously having been seen conducting the same activity on the same day in two other locations - the A47 at Duddington and Harrowden Road near Wellingborough.
It may be that the male was attempting to scam motorists into buying cheap or fake jewellery.
A male in a dark saloon vehicle appeared to be attempting to flag down motorists, potentially attempting to scam them into parting with cash.
Motorists are either asked for cash so they can purchase fuel, or offered jewellery in exchange for cash. The jewellery often appears to be low value – either cheap gold or polished metal – and not worth what they are asked to pay.
Officers are urging motorists to be vigilant and to report any similar incidents to police – using the 101 number for suspicious activity or 999 if you believe a crime is in progress".
~~~~~~~~~~~~~~~~~~~~~~~~~~~~~~~~~~~~~~~~~~~~~~~~~~~~~~~~~~~~~~~~~~~~
'Northamptonshire Neighbourhood Alert' today.....19.01.18
"Ref: Armed Robberies at Convenience Stores...
Further to the message sent on 17th January 2018, four people have been arrested in connection with the armed robberies at convenience stores in the north of the county.
Further enquiries are continuing into this series of robberies.
Please continue to be vigilant and if you have any information that might aid the investigation please call 101.
Thank you for your continued support"
~~~~~~~~~~~~~~~~~~~~~~~~~~~~~~~~~~~~~~~~~~~~~~~~~~~~~~~~~~~~~~~~~~~~
'Northamptonshire Neighbourhood Alert' today.....17.01.18
"Recent Crime East Northants North
15th Jan 18 - Market Place Oundle - Between 00:30hrs and 00:48hrs offender/s have smashed a large window to the hairdressers gaining entry and taking the till.
16th Jan 18 - Brigstock Co-op - At 15:58hrs a male enters the store brandishing a large knife demanding money. Male leaves with cash.
Did you witness either of the above crimes? Did you see anyone suspicious or notice any vehicles in the area at these times?
If you can answer yes to any of the above then please contact Northamptonshire Police on 101.
You can also provide confidential information and stay anonymous by calling CrimeStoppers on 0800 555111
Thank you"
----------------------------------------------------------------------------
'Northamptonshire Neighbourhood Alert' today.....17.01.18
"Armed Robberies at Convenience Stores
Northamptonshire Police are currently investigating a series of knifepoint robberies at convenience stores across the north of the County.
A lone male offender enters, armed with a knife and makes threats to both staff and customers.
Of note the offender has used items to block the doors open such as shopping baskets or stock. If you notice this happening consider raising the alarm.
If you have any information regarding these robberies please contact 101."
-----------------------------------------------------------------------
'Northamptonshire Neighbourhood Alert' yesterday.....16.01.18
"Successful Misuse of Drugs Act warrant executed in Raunds
Police officers from the East Northants Neighbourhood policing team executed a warrant in Raunds today (16-JAN-2018) under section 23 of the Misuse of Drugs Act 1971. As a result, a large quantity of controlled drugs were seized. One male has been arrested and police continue with enquires and positive action in the town.
We are determined to tackle those people who supply drugs to our communities. Anyone with information about the supply of drugs can contact police on 101 or Crimestoppers anonymously on 0800 555 111."
---------------------------------------------------------------------
"Campaign to reduce overhead power line incidents
On average, one farm worker dies each year as a result of contact with an overhead power line. In the last five years, there were 1,140 near-miss incidents involving machinery and overhead power lines where serious injury or death was a possibility.
In response to the scale of such incidents, the UK's energy network operators have joined forces to launch Look Out Look Up! – a campaign which encourages people to plan ahead to avoid contact with overhead power lines and to know what to do if contact is made.
Advice for the agricultural and other sectors, such as construction and road haulage, whose work may take place near overhead power lines includes:
Assess the risks – look out and look up for overhead power lines before every job starts, the yellow and black 'Danger of Death' warning sign fixed to poles is a good indication. Find out the maximum height and reach of your equipment and how this compares to the maximum working distance from overhead power lines which can vary depending on the voltage. If you're not sure contact your local electricity network operator who will provide free safe working advice.
Implement control measures – don't work near an overhead power line if you don't have to. Speak to your electricity network operator for advice. Select suitable machinery and equipment and implement a safe system of work which will ensure any working activity is undertaken at a safe distance.
Know what's safe, and what isn't and share the knowledge with employees, contractors and others who may be affected, for example, delivery drivers. Certain work should be avoided within 10 metres of overhead power lines, such as stacking bales and potato boxes, operating telehandlers and moving irrigation pipes.
Know what to do in a power emergency - it is crucial everyone understands that when overhead power lines are damaged, fall low or are broken, they should stay well away, keep others away if safe to do so, and contact their local electricity network operator by telephoning 105.
If contact is made with a power line with a vehicle or machine, stay in the cab and try to drive clear. If that is not possible, stay in the cab, call 105 and wait for help to arrive. Only in an emergency, such as the machine catching fire, should you jump clear of the machine, taking care not to hold the machine and touch the ground at the same time and take leaping strides so that one foot is off the floor at all times until you are at least 10 metres away.
Remember, if there is any power emergency, call 105, encourage people to save it in their phone. This is the national freephone number for power cuts and power emergencies across the UK and it will connect you to the local network operator.
The risk to farm workers is not only during harvest but all year round. Annually, approximately 225 reported incidents occur where farm vehicles and machinery make contact with overhead lines – typically these incidents involve equipment such as tipping trailers, lorry mounted cranes, combine harvesters and telehandlers. Not only does each incident have the potential to kill or seriously injure those workers involved, there are also financial costs in terms of damaged and destroyed equipment and lost time.

The gas and electricity network operators are urging those at risk to Look Out Look Up! Plan ahead to prevent contact with overhead power lines and know the behaviours to adopt to minimise risk of injury if contact is made."
~~~~~~~~~~~~~~~~~~~~~~~~~~~~~~~~~~~~~~~~~~~~~~~~~~~~~~~~~~~~~~~~~~~~
Tweeted by East Northants Police Team yesterday....29.12.17
"Please be aware that we are having reports of Oil Thefts.
2 from Warmington just before Xmas & now 2 from Sudborough.
If you see any suspicious vehicles during the day then take vehicle details & pass to local team for checks.
Info is that it occurs early hours of the morning".
There is oil theft crime prevention advice here...... https://www.neighbourhoodalert.co.uk/da/203017
~~~~~~~~~~~~~~~~~~~~~~~~~~~~~~~~~~~~~~~~~~~~~~~~~~~~~~~~~~~~~~~~~~~~
From Oundle Police PCSO Ali Wallace, 15 Dec 2017.......
"From now on we shall be sending out all NHW emails via the new Neighbourhood Alert tool which if you haven't already, I urge [all of] you to sign up to asap.
The messaging service is run by Northamptonshire Police and it allows frontline police officers and PCSO's to send alert messages direct from their mobile devices to thousands of local people. We will be able to do this in real-time while we are out and about policing the county.
The alert service is free and simple to activate by registering at www.northamptonshireneighbourhoodalert.co.uk and is available to anyone living or working in Northamptonshire.
After signing up to the messaging system, you will receive regular alerts from Northamptonshire Police, Neighbourhood Watch and other partner organisations, keeping you up to date and informed about crime, and issues relevant to you and the area where you live or work.
Alerts are received either by email, text message or voice message – whichever suits. You will also be given the option of what you want to receive alerts about, and how often – you will only receive messages about topics you have selected.
Many of our team have been trained to use the alert system and are now regularly sending out messages, including; crime alerts, missing person alerts, witness appeals and crime prevention advice, so please sign up.
Thank You"
~~~~~~~~~~~~~~~~~~~~~~~~~~~~~~~~~~~~~~~~~~~~~~~~~~~~~~~~~~~~~~~~~~~~
East Northants North Crime Report 2nd – 6th December 2017
5th December Distraction Burglary, Benefield Road Oundle. Male 1 goes to front door and starts talking to elderly resident saying that he is lost and looking for a friend who lives local. He asks her to point out the direction he should be going in so they walk to the front gate leaving the front door open. During this time two other men have entered the property witnessed by the elderly male living at the address, and gone through the cupboards in the bedroom before breaking the back door to exit.
3rd-4th Dec Theft of Black Audi Q3, Oak Lane, Kings Cliffe. Unknown person/s have stolen vehicle from driveway using unknown means. Great work by neighbour who saw on local Facebook site that a vehicle had been stolen in their street and so checked their CCTV. On checking identify a Silver Audi WL51 AFX pull up and a male get out and walk down the road, moments later the stolen vehicle pulls up next to the silver Audi and they both drive off. Silver Audi is on cloned plates but if seen please contact us asap.
29th Nov – 4th Dec Theft of lead from church roof, Church of St Mary, Warmington.
3rd-4th Dec Criminal Damage to vehicles, Siddons Close Oundle. Unknown person/s have used a sharp object to scratch across two doors of passenger side of one vehicle and the driver's side of another.
1st-2nd Dec Burglary of Business, Grafton Road, Brigstock. Unknown person/s have cut a hole in a corrugated iron barn and made an untidy search.
1st -2nd Dec Burglary of Business, South Road Oundle. Unknown person/s have gained entry into the Oundle Veterinary surgery, oxygen cupboard broken into and full bottle of oxygen taken.
30th Nov-1st Dec Theft from motor vehicle, Wood Road Kings Cliffe. Unknown person/s have entered vehicle by unknown means and removed items.
~~~~~~~~~~~~~~~~~~~~~~~~~~~~~~~~~~~~~~~~~~~~~~~~~~~~~~~~~~~~~~~~~~~~
This report has just come in this afternoon from PCSO Ali Wallace. After a period of not receiving these crime reports weekly, this must be their new way of doing it....
Good Afternoon,
East Northants North Crime Report 1st – 26th November 2017
19th Oct - 1st Nov Burglary non-dwelling, Sudborough Rd Brigstock. Unknown person/s enter insecure outbuilding and remove items. Please ensure to lock up all valuables.
4th Nov Theft from motor vehicle, Sulehay Rd Yarwell. Unknown person/s smash window to enter vehicle and remove items.
4th-7th Nov Burglary Benefield Rd, Brigstock. Unknown person/s jemmy open secure dining room window at the rear of property. Once inside force door locks and remove items.
5th Nov Theft from motor vehicle, Sulehay Rd Yarwell. Unknown person/s smash window to enter vehicle and remove items.
5th-21st Nov Theft of boat engine, Mill road Yarwell.
7th Nov Theft from motor vehicle, Wakerley Woods. Unknown person/s smash window to enter vehicle and remove items.
7th Nov Theft from motor vehicle, Top Lodge Fineshades.
7th Nov Burglary Yarwell. Unknown person/s have gained entry into lived in caravan on site, conduct untidy search and removed items.
7th-8th Nov Theft from motor vehicle, Neville Day Close Easton on the Hill.
9th Nov Theft from motor vehicle, Sulehay Rd Yarwell. Unknown person/s smash window to enter vehicle and remove items.
10th-13th Nov Theft from motor vehicle, Collyns Way Collyweston. Unknown person/s smash window to enter vehicle and remove items.
11th Nov Attempt theft of ride on mowers, Nassington.
12th Nov Theft from motor vehicle Stamford Road Easton on the Hill.
12th Nov Criminal Damage to vehicle, Easton on the Hill. Noise is heard outside house so look out and see two males in balaclavas trying to break into van. No entry gained but damaged the lock.
12th-13th Nov Theft from motor vehicle, Main Road Collyweston.
12th-13th Nov Theft from motor vehicle, The Close Easton on the Hill.
15th-16th Nov Theft of plates from vehicle, Bells close, Brigstock.
16th-22nd Nov Burglary Polebrook, Bank notifies resident who is away on holiday that bank cards are being used in a way that alerts them. Contact neighbours who go round to the house who then confirm a burglary has taken place.
16th-17th Nov Criminal Damage to fence, Causin Way Brigstock.
18th-19th Nov Burglary Exeter Arms PH Stamford Rd Collyweston. Unknown person/s force entry via a secure window and try unsuccessfully to remove the till. Left empty handed.
18th-21st Nov All Saints Church Easton on the Hill. Unknown person/s have tried to force open a wall safe but were unsuccessful.
19th-20th Nov Theft Lyveden Airfield Harley Way. Unknown person/s break padlock to gain entry and remove items from within.
21st Nov Drive Off Oundle Rd Warmington. Filled drums on back seat, got into car and drove off without making any attempt to pay.
21st Nov Drive Off Station Rd Oundle. Fill vehicle when attendant not in sight, when they see him coming back they stop, get in car and drive off making no attempt to pay.
21st-25th Nov Theft of lead from St Marys Church Warmington.
Good News
Vehicle on Sulehay Rd which was a victim of theft had a dash cam which caught two offenders on camera who have now been identified and arrested.
If you see a crime taking place or something suspicious please call 999 noting as much detail as possible including time, location, descriptions, direction of travel from the scene, make and model of any vehicles and if possible any registrations. For any non-emergency incidents or to pass any intelligence call 101 (call costs 15p for entire call) or you can email your local Police. Please also visit the force website www.northants.police.uk for more information on what's going on in your area and to see what our present problem solving plans are. From this site you can also fill in a consultation form for any issues you would like to share or leave a message for your local neighbourhood policing team.

Thank you
Regards
Ali
~~~~~~~~~~~~~~~~~~~~~~~~~~~~~~~~~~~~~~~~~~~~~~~~~~~~~~~~~~~~~~~~~~~~
Please be aware over the last 24 hours (from 26 Sept) we have had a burglary in Easton on the Hill; also a burglary in the Laxton Drive area of Oundle (Of note both properties were empty as owners were away on holiday). Also a grey Volvo XC60 has been stolen from the Tansor area.
Entry gained to motor vehicle parked in Harley Way, Brigstock between 12.15pm and 1.20pm on Friday 22 September. Items stolen.
A vehicle was broken into in Thorpe Road, Aldwinkle between 3.15pm and 3.40pm Tuesday 12 September items stolen.
We have had a number of burglaries in Oundle/Warmington in the past two weeks. There have also been 3 in Thrapston. Please keep everything valuable locked away and if you see or hear anything suspicious take notes and call us asap. Any unknown vehicles in your area acting suspicious please get as many details as possible and forward them on to us.
Burglary – Ray Close, Oundle – 11th September between 16:04hrs and 17:04hrs offenders force entry at the rear of the property via glass bi-fold doors, once inside items stolen. Neighbour saw offenders jump into a grey Audi and make off. Vehicle on false plates.
Attempt Burglary – Big Green, Warmington – 11th September between 08:15hrs and 19:00hrs unknown person/s have used bodily force to attempt to kick out a glass panel at rear.
Burglary – Glapthorn Rd, Oundle – Between 10th Sep at 22:00hrs and 11th Sep 06:00hrs Unknown offender/s have forced their way in via the rear patio doors. Items stolen.
Burglary – Bellamy Rd, Oundle – Between 9th Sep at 09:30hrs and the 10th Sep at 16:30hrs unknown persons have gained entry into shed and used tools from within to gain entry into the property via a UPVC window. Ladders were removed from bracket & used to reach the alarm which was put into a bucket of water and the phone line cut to disable it. Items taken.
Burglary of a property in Lakeside Close, Thrapston between 10am on Friday 1 September and 6pm on Tuesday 5 September. Items stolen.
Burglary of a property in Clare Drive, Thrapston between 1pm on Monday 28 August and 10.45am on Tuesday 5 September. Unknown if items stolen at this time.
Burglary of a property in Navisford Close, Thrapston between noon on Friday 1 September and 10.28am on Monday 4 September. Nothing stolen.
There have also been a few reports of vehicles being broken into in the North side of the area between the 9th and 11th September – Yarwell, Old Sulehay, Duddington. These vehicles had valuables such as cash, sat navs and bags left on display and were parked remote places.
Criminal Damage – Lyvden New Bield – Person/s unknown sprayed graffiti on wall of 16th Century unfinished building. Occurred between 25th Aug 09:00hrs and 1st Sep 16:00hrs.
Finally, Northants residents are receiving scam BT calls. NEVER allow an unsolicited caller to take control of your computer.
Please report any suspicious incidents to police on 101 / 999 in an emergency.
http://www.northants.police.uk/contact/online
~~~~~~~~~~~~~~~~~~~~~~~~~~~~~~~~~~~~~~~~~~~~~~~~~~~~~~~~~~~~~~~~~~~~
"I'm afraid to say there has been another theft from a motor vehicle on Sulehay Rd, Yarwell. Occurred between 12:05 and 13:10hrs Thursday 7th September. Unknown offender/s have smashed passenger window to gain entry and stolen items from within.
We are doing work around this but if you have any information i.e a suspicious vehicle/person/s in the area then please do email myself, PCSO Ali Wallace. If a vehicle seems suspicious then please get as much detail as you can especially the registration, even if you just get a part reg and the colour.
Burglary – South Bridge Close, Oundle – Between 3rd Sep at 11:30hrs and 6th Sep at 19:30hrs, unknown person/s have gained entry into residential property by smashing the back patio double glazed doors using an unknown object. Once inside they have drawn the curtains and gone on to steal items.
There has also been reports of 3 youths in hoodies that keep trying to get into the coach house on Church St in Oundle which is part of the school. If you have any information that could help identify them please send PCSO Ali Wallace an email.
Saturday 26th August – Islip - Police response officers acting on a call from the public arrested two men on suspicion of stealing lead from the roof of a 15th century Northamptonshire church.
Officers were called at about 3.20am yesterday (Saturday, August 26) after reports of a van driving close to St Nicholas Church in Islip and later of a sighting of a figure on the roof.
With the support of the police helicopter, one of the suspects was found hiding in bushes and the other was located on the roof.
Inspector Kev Byrne, who leads on rural crime for Northamptonshire Police, said: "This was a fantastic result by our team officers who acted fast to arrest these two individuals.
"It demonstrates how we will respond when the public comes to us and reports a crime. Lead theft is a troubling crime for our rural communities,targeting, as it does, historic buildings in the heart of their community."
*A 47-year-old man and a 33-year-old man, both from Kettering, have been charged."
~~~~~~~~~~~~~~~~~~~~~~~~~~~~~~~~~~~~~~~~~~~~~~~~~~~~~~~~~~~~~~~~~~~~
Vehicle Crime – Sulehay Rd, Yarwell – On the 20th August between 17:00hrs and 17:35hrs unknown person/s have smashed through the passenger side window of vehicle and gained entry. Upon entry an untidy search has been performed and item's stolen. [The 2nd car break-in here in a week; on Sun 13th a visitor to Ring Haw Wood was broken in to]
Burglary – The Black Horse Inn, Nassington – Between 18th Aug at 23:30hrs and 19th Aug at 09:00hrs person/s unknown have forced the rear window open, causing damage to the window and lock. Entry gained and items stolen.
Burglary – Oundle Pharmacy – On the 18th August between 04:30 and 04:37hrs, unknown offender gains entry to locked and secured pharmacy by prying open wooden door causing extensive damage, once inside two till drawers are taken containing £100. These till drawers were later found the same day in a field near to Lower Benefield minus the £100.
Forced entry to motor vehicle parked in Navisford Close, Thrapston between 11pm on Thursday 17 August and 7am on Friday 18 August. Numerous items stolen.
Burglary – Wansford Rd, Yarwell – 17th August at 17:28hrs Unknown person/s have gained entry to mobile home by forcing the rear window. Attempted to gain entry through the door with no joy but causing extensive damage. Search conducted and unknown at this time if anything was taken.
Theft from vehicle – Grafton Rd, Brigstock – Between 13th Aug at 13:00hrs and 14th at 11:00hrs person/s unknown have removed tools from unlocked vehicle parked at the farm.
~~~~~~~~~~~~~~~~~~~~~~~~~~~~~~~~~~~~~~~~~~~~~~~~~~~~~~~~~~~~~~~~~~~~
There have been two thefts of lead from church roofs recently - St John the Baptist church in Slipton and St Peters church in Raunds so please stay vigilant if you are by any local churches and report any suspicious activity to us.
~~~~~~~~~~~~~~~~~~~~~~~~~~~~~~~~~~~~~~~~~~~~~~~~~~~~~~~~~~~~~~~~~~~~
Theft from vehicle – Lilford Rd, Thorpe Waterville – Person unknown has smashed the passenger side window of locked and secure vehicle and made an untidy search stealing items from within. Occurred between 14:30hrs and 16:30hrs 13th August.
Theft from vehicle – East Rd, Oundle – Unknown person/s have removed both wing mirrors from vehicle. Occurred between 14:30hrs and 16:00hrs on the 13th August.
Theft from vehicle – Sulehay Rd, Yarwell – Unknown person/s have damaged the front passenger side lock in an attempt to gain entry. They did not succeed so they then smashed the window of same door to gain entry. They have then emptied the glove box removing a wallet and two phone chargers along with 2 pairs of trainers from under the back seat. Occurred between 11:30hrs and 13:50hrs on 13th August.
Theft of pedal cycle – Woodyard Close, Brigstock – 10th August between 07:40hrs and 12:00hrs person/s unknown have removed an insecure push bike from the front garden.
Criminal Damage – Kings Road, Oundle – Between 8th August at 18:00hrs and 9th August at 08:30hrs person/s unknown have broken/snapped off part of the rear windscreen wiper to vehicle parked on driveway.
Criminal Damage – St Osyths Lane, Oundle – Unknown person has kicked wooden door, force of which, combined with the security devices in place has caused it to bow. Occurred between 21:30hrs and 21:57hrs 6th August.
Burglary of a property in Oundle Road, Thrapston between 1.09pm on Friday 28 July and noon on Friday 4 August.
~~~~~~~~~~~~~~~~~~~~~~~~~~~~~~~~~~~~~~~~~~~~~~~~~~~~~~~~~~~~~~~~~~~~
Stephen Hall and I were invited to a meeting at Oundle Police station on Wednesday 9th Aug with PC1089 John Vjestica. The subject up for discussion was the recent drug related youth car gatherings, and the car break in incidents, in the Wadenhoe Church car park.
We all concluded that the best way forward to solve the mainly nuisance and litter problem for Wadenhoe is for Stephen to install a lockable barrier at the cattle grid entrance to the Church track. He is happy to do so.
This will just move the problem on elsewhere, but the police are ok with that because these gatherings and incidents are already occurring at various other quiet spots in East Northamptonshire. Wadenhoe Church car park will just not be one of them.
We don't think the problem will move to another Wadenhoe car park as they would have to drive through the village to get there, which is likely to be too public for them, but do keep an eye out for this, please, in future.
Once the barrier is in place, access along the Church track by vehicle will be given by Stephen to those with good reason for needing it, and they would have to lock the barrier again after entry, and after leaving, to stop being followed in by unauthorised vehicles.
This will stop the problem of litter in the Church car park, and people will feel safer walking through there again, and the grazier and Stephen will be happy not to have boy racers racing around on their grass. The Church itself should be safer too.
The main day to day access to the Church will become on foot from the Village Hall car park, walking up the Church footpath.
For the sake of the renting grazier, remember dogs must be on leads if livestock is present(even if well trained - set an example or you will be copied by an owner with a less obedient dog), and for hygiene dog poo must be bagged and put in the bin or taken home.
We will get the Dog Warden to monitor this is happening.
In the meantime, until the new barrier is in place, if there is any further crime in the Church car park area inform the police on 101 or online, and let us know too.
And also in the meantime, please note that PCSO Alison Wallace (mobile: 07557 778063, or 101 ext.345976) says if anyone has any issues with these youths contact them and they will come straight out.
The Church car park is now on a 'red route' for police patrols from Thrapston and Oundle.
The police thank local residents for all the information they have provided.
Kind regards,
Trevor Pocknell
Wadenhoe Neighbourhood Watch.
~~~~~~~~~~~~~~~~~~~~~~~~~~~~~~~~~~~~~~~~~~~~~~~~~~~~~~~~~~~~~~~~~~~~
A vehicle parked in driveway was broken into in Jubilee Close, Islip between 2.10am and 2.17am Thursday 3 August items stolen.
A garden shed [in Thrapston area] was broken into and items stolen together with insecure motor cycle between 11.45pm Tuesday 1 August and 8.30am Wednesday 2 August.
Burglary of a property in Nine Arches Way, Thrapston between 5.23pm Wednesday 26 July and 5.25pm Wednesday 2 August items stolen including car keys and car.
Distraction burglary in The Grove, Ringstead between 12.30pm and 12.50pm Thursday 3 August items stolen.
Burglary – Wood Road, Kings Cliffe – Between 21:00hrs 1st Aug and 10:00hrs 2nd Aug, unknown person/s have forced entry to garage and removed an old petrol can with fuel inside. They have then entered the outside toilet and removed a spare house key!
Vehicle Crime – Fineshades Close, Kings Cliffe – Between 22:30hrs on the 1st Aug and 07:16hrs on the 2nd, unknown person/s have removed the rear side driver's window causing no damage to the window. Untidy search of the vehicle and a fuel can filled with water was stolen.
Theft – West Street, Kings Cliffe – Between 22:30hrs on 1st Aug and 08:30hrs 2nd, unknown person/s have removed 1 x filled hanging basket and then removed 3 x filled standing tubs from the front of the property.
Theft – West Street, Kings Cliffe – Bewteen 22:00hrs on 1st Aug and 09:110hrs 2nd, unknown person/s have stolen one round ceramic pot from front garden.
Theft – Lowick Road, Aldwincle – Overnight 2nd August-3rd August unknown person/s have stolen the planter box at the entrance of the village. This is the 3rd one now stolen.

ALSO on wednesday (probably at ) night(2nd Aug)), the seat under the village noticeboard in Wadenhoe was pulled away from its strong attachment to the wall, and then left.
ALSO on wednesday (probably at) night(2nd Aug), two metal hurdles either side of the cattle grid entrance to the drive to Wadenhoe Church were lifted out, and left by the roadside.
ALSO on Sun/Mon 30/31st July, beginning of this week, a pantile roof in Mill Lane was damaged by stone throwing from the Old Barn car park.
Anyone who has any information relating to these incidents, please ring 101, or fill in a suspicion or crime form online....and contact your local Neighbourhood Watch reps.
http://www.northants.police.uk/contact/online
~~~~~~~~~~~~~~~~~~~~~~~~~~~~~~~~~~~~~~~~~~~~~~~~~~~~~~~~~~~~~~~~~~~~
Vehicle Crime – Church St Wadenhoe – Between 11:30hrs and 14:00hrs yesterday (31st July) person/s unknown have smashed the window on two vehicles which were left locked and secure and have taken items left inside.
[Note: This actually happened up in the church carpark at Wadenhoe. Also, 2 weeks ago, builders working on the church had window in van smashed & tools stolen. It appears this was not reported as it is not known to the police, so not only is it not in police statistics, but also if reported warning signs could have been up and that might have prevented this latest break in. Please report crime! Warning signs not to leave valuables in your car are now going up in Wadenhoe car parks. Don't tempt the thieves!]
Vehicle Crime – Fermyn Woods Country Park – Between 11:30hrs and 12:25hrs yesterday, person/s unknown have smashed parked secure vehicle window and stolen a telescope from within.
Vehicle Crime – Glapthorn Rd Oundle – Between 11:00hrs and 12:15hrs yesterday, secure vehicle has window broken and items within stolen.
Vehicle Crime – Main St, Pilton – Between 14:00hrs and 14:25hrs yesterday, parked secure vehicle has window smashed but nothing appears to have been stolen at this time.
Vehicle Crime – Unnamed Rd Harringworth – Between 11:03hrs and 12:25hrs on 28th July, secure parked vehicle has window smashed and items inside taken.
Vehicle Crime – Bevan Close Warmington – Between 12:00hrs on 28th July and 12:00hrs 29th unknown person/s have used a sharp instrument to scratch two vehicles parked on driveway.
Raunds and Ringstead are among other areas hit.
If you have any information that may help police enquiries then please call 101 or report online.
~~~~~~~~~~~~~~~~~~~~~~~~~~~~~~~~~~~~~~~~~~~~~~~~~~~~~~~~~~~~~~~~~~~~
Burglary of a property in Main Street, Clopton at 3.50am Friday 28 July - items removed.
A vehicle was broken into in Oundle Road, Thrapston between 2.30pm and 3pm Thursday 27 July - items stolen.
A property was broken into in Dove Court, Main Street, Cotterstock on Thursday 27 July at 4.35 - items stolen.
Person/s removed front and back number plates from motor vehicle parked in Chapel Street, Warmington between 9.30pm on Thursday 20 July and 8am on Friday 21 July.
Car Key Burglary – The Drove, Collyweston – On the 21st July between 10:00hrs and 19:00hrs neighbour notices that next doors car is missing from driveway. They were on holiday so the car should still be there. On further inspection of the property they notice the wooden garden gate and side entrance to the house have been forced open. Once inside person/s have made an untidy search and stolen the keys for the Audi S3 which was parked outside on the driveway.
Theft from motor vehicle – The Cresent, Easton On The Hill – 22nd July between 04:45hrs and 02:00hrs person/s enter secure vehicle by unknown means and steal items. There is no sign of a forced entry.
Please may we remind people not to leave items on show in their vehicle, especially when parked up in the local beauty spots/parks. We have had reports of items being stolen from vehicles left unattended at some of these locations.
~~~~~~~~~~~~~~~~~~~~~~~~~~~~~~~~~~~~~~~~~~~~~~~~~~~~~~~~~~~~~~~~~~~~
NHW Alerts from Oundle Police this afternoon......
"Theft – Bosworth Close, Warmington Between 16th July at 14:00hrs and 17th at 12:50hrs unknown person has stolen registration plates from vehicle.
Theft – The Green, Ashton Between 19th July at 12:00hrs and 20th at 08:00hrs unknown person/s unscrewed and removed 10 A5 metal signs from 10 wooden benches in the public green space.
Burglary non-dwelling – Westfields, Easton on the Hill Between 18th July at 22:00hrs and 19th at 06:10hrs unknown person/s have gained entry into shed and stolen a petrol strimmer.
Attempt theft – Seaton road, Harringworth Between 10:40hrs and 10:54hrs on 19th July two males enter farm and attempt to steal scrap metal but were disturbed and made off. Driving white Peugeot van reg NX64 WJL – This is the vehicle that has been spotted a lot just recently. Officers have been to see the offenders.
Burglary – Market Place, Oundle Between 18th July at 19:00hrs and 19th at 04:13hrs unknown person/s have gained entry by smashing front door window with a rock. Once inside access the cash till and remove the float money and leave.
Burglary – Market Place, Oundle – Oundle school book shop Between 18th July at 18:00hrs and 19th at 04:40hrs person/s unknown smash window to door and gain entry. Tidy search and nothing at this time known as taken.
Theft of Vehicle – Church Street, Oundle Between 19th July at 21:00hrs and 20th at 08:45hrs person/s unknown remove vehicle a silver Honda Civic by unknown means. Owner still has the keys.
If you have any information that could help with enquiries then please call or drop myself an email.
Thank you
Regards
Ali
PCSO 7074 / East Northants Neighbourhood Team | Territorial Policing | Northamptonshire Police
(Telephone 101 ext 345976 | ( Mobex 778063| ( Mobile 07557 778063|
: Email alison.wallace@northants.pnn.police.uk
+Address Oundle Police Station, Glapthorn Road, Oundle, PE8 4JA."
~~~~~~~~~~~~~~~~~~~~~~~~~~~~~~~~~~~~~~~~~~~~~~~~~~~~~~~~~~~~~~~~~~~~
Theft – High St, Titchmarsh – Unknown vehicle pulls up outside house and a male exits the vehicle. He picks up two ceiling light/fan fittings which are left insecurely outside the property, places them into his vehicle and drives away. Occurred Saturday 8th July between 16:40hrs and 16:45hrs.
Vehicle Crime – Sulehay Road, Yarwell – Vehicle left securely parked at the side of the road. Unknown person has smashed the rear nearside window using unknown means. Untidy search and items removed. Occurred between 09:00hrs and 14:00hrs on the 8th July.
Overnight 6th to 7th July between 22:30hrs and 04:30hrs unknown person enters garden and steals garden ornament, Pierce Crescent, Warmington.
Theft – Oundle – Person/s have entered Oundle Marina and stolen the engine hood off one of the boats. Occurred between 24th June at 12:00hrs and 1st July at 12:00hrs. Crime ref 17000287145
Burglary – Wansford Rd, Kingscliffe – Entry gained to property by forcing the front door. Once inside they proceeded to the study office where they have removed a large safe from the wall causing a lot of damage, before giving up and leaving the safe in the hall way and making off. A tidy search was also conducted of several other rooms and it's believed they were looking for the safe key. Occurred 6th July between 12:00hrs and 12:30hrs. Crime ref 17000287140
Burglary – Hemington Rd, Polebrook – Person/s unknown gain entry to property via an insecure side door. Untidy search conducted and jewellery stolen and pillow case missing. (Often a pillow case is used to carry out the stolen items) Occurred 6th July between 15:00hrs and 15:48hrs. Crime ref 17000288002
There has been a burglary in the village of Fotheringhay, last night (4th July) between the hours of 1700hrs and 2200hrs. Access was gained to an upstairs window using the owners ladders.
Attempted burglary of a property in Queen Street, Thrapston between 1pm and 4.30pm Monday 3 July.
02-JUL 13:10 to 13:20hrs – Lower Benefield. Victim reports that male offender is disturbed in the rear yard of farmhouse, offender drops a crow bar then runs off towards a waiting vehicle. Victim discovers lock broken to nearby cattle shed and shutters have been opened. Unknown offender is then driven off by second unknown male in a grey Volkswagen pickup truck (no registration taken).
Criminal damage – Latham Road, Oundle – Between 19:30hrs on the 30th June and 07:50hrs on the 1st July, unknown person has attempted to gain access to the key safe on the wall outside the front door of property using unknown means causing damage to the key safe. Crime ref 17000278021
Attempted burglary of a property in Huntingdon Road, Thrapston between 11.16pm and 11.25pm Tuesday 27 June.
~~~~~~~~~~~~~~~~~~~~~~~~~~~~~~~~~~~~~~~~~~~~~~~~~~~~~~~~~~~~~~~~~~~~
Theft – Aldwincle – Between 10:40hrs and 12:15hrs on the 29th June person/s unknown remove flower box at the Oundle entrance to Main street, a second flower box is also noticed missing from the Thorpe road entrance.
Burglary – Nassington – Person/s unknown enter gated yard of Coal Merchants, once inside make their way to the rear of the yard where they move a stack of 21 car/motorcycle batteries and stack them at a different location using an onsite wheel barrow, believed to be in preparation to steal. They also cut the locks off 3 containers however nothing has been taken. Believe offender/s have been disturbed. Occurred between 28th June at 17:00hrs and the 29th at 10:00hrs Crime ref 17000275302.
Burglary – Main Street Wakerley – Between 12:45hrs and 14:19hrs on the 22nd June unknown person/s has used an unknown instrument to force the lock from the front door of property, Saw Property Services. Once inside nothing taken. Crime ref 17000272894
Theft – Kingsthorpe Lodge Farm, Polebrook – Between 11:00hrs and 14:00hrs on 27th June unknown person/s have entered farm building and removed car batteries from the chargers. Crime ref 17000272393.
House Fire – Oundle – Calls were made to fire yesterday evening (30th June) with regards to an empty house being on fire on Cotterstock Road in Oundle. If anyone saw or heard anything then please call us on 101 or speak with your local officer.
Did you know you can report criminal incidents online after the event if you can't wait to use 101, including on behalf of somebody, at
https://www.northants.police.uk/webform/report-crime
There is a tick option choosing whether to hear from 'Voice' victim support or not as well.
PCSO Ali Wallace asked me to let you know, adding "Hope this helps with people reporting things."
~~~~~~~~~~~~~~~~~~~~~~~~~~~~~~~~~~~~~~~~~~~~~~~~~~~~~~~~~~~~~~~~~~~~
Theft – Lilford – On the 24th June between 14:30hrs and 15:15hrs a push bike is locked securely to a bench outside owners home as they had it up for sale. Unknown person/s have removed the bike, lock and the bench it was secured to. Crime ref: 17000267733
Titchmarsh – Criminal Damage – Between 07:00hrs and 20:00hrs on the 24th June unknown offender/s have entered the field at the rear of the house where a number of sheep are kept. Owner finds one of the sheep has been stabbed in the neck. This was confirmed by the vet who gave treatment to the animal which has survived. Crime Ref: 17000267080.
Deene – 11.30 am on 24 June, white Peugeot van, registration similar t NX64WJL, came down a farm track, drove around the yard and then left. It then went to a neighbouring farm and was challenged by the farmer. Occupants stated they were looking for old tractors or machinery before leaving [this van's occupants were reported as acting suspiciously at properties in Oundle on 6th June] [Crime report on Northants Horsewatch Facebook page]
~~~~~~~~~~~~~~~~~~~~~~~~~~~~~~~~~~~~~~~~~~~~~~~~~~~~~~~~~~~~~~~~~~~~
Titchmarsh – 21st June – Resident was driving vehicle first thing in the morning when one of their front wheels fell off whilst being driven which caused the brakes to fail. It was on inspection of the vehicle afterwards that they discovered that an unknown person/s have loosened all the wheel nuts. Vehicle had been parked up overnight on North street in Titchmarsh and I ask anyone who may have CCTV in that area to please make contact. Crime Ref for this incident is 17000262148.
Oundle – Creed Rd – Burglary non-dwelling – Unknown person/s have picked garage lock and once inside severed the bicycle lock and removed the bike. Occurred on the 21st June between 00:00hrs and 05:00hrs. Crime ref: 17000261766.
Luddington – St Margarets Church – Attempt theft of lead from church roof. Offenders spooked when the alarm started to sound and made off leaving the lead behind. Occurred early hours of this morning (22nd) between 01:30hrs and 02:10hrs. Crime ref: 17000262534.
~~~~~~~~~~~~~~~~~~~~~~~~~~~~~~~~~~~~~~~~~~~~~~~~~~~~~~~~~~~~~~~~~~~~
A garden shed was broken into in Cross Lane, Aldwincle between 12noon Thursday 1 June and 12noon Monday 12 June and property stolen.
~~~~~~~~~~~~~~~~~~~~~~~~~~~~~~~~~~~~~~~~~~~~~~~~~~~~~~~~~~~~~~~~~~~~
Burglary dwelling – Main St – Upper Benefield – House was left locked and secured yesterday (10th June) at 19:20hrs, owner returns two hours later at 21:20hrs to find the back door has been forced, an untidy search has been conducted and a briefcase is missing. Crime Ref 17000244662.
Burglary 3 dwellings – Church St and Big Green Warmington. Occurred early hours of the 10th June. 17000243646, 17000243712 church St, Big green 1700017000243784.
Theft – Luddington Rd, Thurning – Person/s have climbed over farm wall and stolen some batteries. Occurred between the 7th June at 18:00hrs and 10th at 10:00hrs. Crime ref 17000243087.
Some good work by a resident from Titchmarsh! Spotted a male acting suspicious and saw him breaking the wheel lock on a caravan. Believed he was trying to steal the caravan and contacted us. 1 male was arrested for attempt theft. Thank you to that resident.
Burglary – Stamford Road, Easton On The Hill – Offenders have gained access to a property after removing the key safe from the wall of the dwelling and prying it open to retrieve the keys. Offenders have then entered the property taking several items including car keys that are easily available without an untidy search. Offenders then left the address and have taken vehicle AF17 RWW Audi S3 in blue. Occurred between the 7th June at 22:30hrs and the 8th June at 08:00hrs. Crime ref 17000240268.
Shed Break – Drydens Close, Titchmarsh – Person/s have smashed window to shed and taken items from within. Occurred between the 6th June at 10:00hrs and the 7th June at 12:00hrs. Crime ref 17000238694.
There was also a number of thefts from motor vehicle reported from a village nearby. All vehicles that were targeted had been left insecure! This shows to us that these were done by an opportunist thief. Please Please make sure you lock up your vehicles when left unattended and check them before retiring for the evening. This thief will have just been going along checking the door handles to see if they opened and got lucky. Don't give thieves an easy ride.
Attempt Burglary non-dwelling – Church St, Titchmarsh – on the 31st May between 110:00hrs and 13:30hrs unknown person/s have removed a panel of wood from the rear barn in the garden and attempted to force the lock but no entry gained. Then on the 5th June between 08:45hrs and 16:15hrs unknown person/s have accessed the garden and left the gate open by wedging it with a stone. They have then damaged the security light that captures images which is located on the barn and again attempts made to force the lock although no success. Crime ref 17000235675.
Theft – Oak Lane, Kings Cliffe – Golf clubs are left out on driveway when removing them from vehicle. Clubs left in full view and have gone missing. Occurred between 12:00hrs and 14:00hrs on 5th June. Crime ref 17000235337.
Criminal Damage – Titchmarsh Primary School – Between 26th May at 15:30hsr and 1st June at 09:00hrs person/s have used an unknown object to damage 3 gates surrounding the school grounds. Locks and chains have been forcibly removed causing damage to one of the gates whereby it can no longer be closed and parts having to be replaced. Crime ref 17000235444.
Criminal Damage – Ashton Lodge – Between 2nd June at 16:00hrs and 5th June at 12:13hrs a picnic table has been damaged and the fire pit has been vandalised. Crime ref 17000235528.
ALSO OF NOTE – Oundle - A small white Peugeot van was seen on West St, Oundle. Pulled onto a driveway and males got out and started to look around. When questioned by the home owner they asked if she wanted a quote to take away her garden rubbish! They were also checking out the neighbour's house. One middle aged and a younger lad, both wearing high vis waist coats and spoke with an Irish accent. Vehicle reg NX64 WJL if seen please call us on 101.
~~~~~~~~~~~~~~~~~~~~~~~~~~~~~~~~~~~~~~~~~~~~~~~~~~~~~~~~~~~~~~~~~~~~
Theft – Duck Lane Oundle, Person/s have entered an insecure standalone wooden garage near the house and stolen 3 pedal cycles. Crime occurred between 13:00hrs 2nd June and 09:04hrs 3rd June crime ref 17000231897.
Burglary Non-dwelling – Oundle Bowling club, Person/s have caused damage to the security light and then using unknown instrument break the first floor window and gain entry. Untidy search conducted but unknown at this time if items have been removed. Crime occurred between 23:20hrs 2nd June and 07:55hrs 3rd June Crime ref 17000232041.
Criminal Damage – East road, Oundle. Unknow person/s have dented the driver's door and front wing of a vehicle parked up overnight. There is such a dent that the door cannot be opened. Occurred between 18:30hrs 2nd June and 07:10hrs 3rd June Crime ref 17000231840.
Burglary Non-Dwelling – Aldwincle – Offender/s have dismantled a side door to Aldwincle Garage where they have gained entry. Once inside they have taken a number of electrical tools and a Track Motor Cycle. CCTV was deactivated by the offender/s but prior to this a red transit connect van is seen on the forecourt. Crime occurred between the hours of 19:00hrs on the 1st June and 06:30hrs on the 2nd, however the red van shows on the CCTV as being there at 01:11hrs on the 2nd. Crime reference 17000230606.
Burglary Non-Dwelling – Oundle – Offender/s have broken into the Oundle Rugby Club shed which is situated in the car park. Locks have been removed using unknown instrument. Crime occurred between 15:00hrs 1st June and 08:00hrs on the 2nd June. Crime reference 17000230349.
Burglary Non- Dwelling – Brigstock – Offender/s have broken into the Sawmill, Sudborough, Brigstock by breaking the lock to the gate, cut off one of the padlocks, attempted to cut a second but were unsuccessful and had to smash the lock with another tool. A large quantity of sleepers were taken along with some feather edge boards. Crime occurred between 17:15hrs 31st May and 06:45hrs 1st June. Crime reference 17000230822.
Theft – Barnwell – Offender has hired two flatbed trailers from Barnwell trailers and not returned them. [Photos available]
If you have any information regarding the above crimes please contact us on 101 and quote the crime reference number.
~~~~~~~~~~~~~~~~~~~~~~~~~~~~~~~~~~~~~~~~~~~~~~~~~~~~~~~~~~~~~~~~~~~~
This is an attempt at fraud that happened to someone in Oundle on Monday 15th May; it is quite believable, so be aware!...........
"I have just taken a call supposedly from BT Open Reach about the internet speed. In short, they say they are upgrading the network in the town and ask to check your current router. They need to connect to your computer to do this.
They sound very plausible and give you a lot of BT waffle. They have genuine Mumbai call centre accent etc. When they run tests on your router, via your computer, which takes 10 minutes or so, in which you are involved and feel they are being helpful, they then say you need a new router, which is free along with the upgrade to fibre. However they then say that all that is required is the installation fee of £20 and the engineer will attend between 9 and 12 tomorrow to install. They give you an engineer's name (Sam Jones) and an ID number.
They ask you to pay the installation fee by logging on to your online banking. Having done battle with BT over the last few months, this part is the only thing that made me suspicious. I refused to log on to my bank. After toing and froing a bit, they hung up.
I have just checked with BT and they have confirmed this was a sophisticated phishing attempt."
~~~~~~~~~~~~~~~~~~~~~~~~~~~~~~~~~~~~~~~~~~~~~~~~~~~~~~~~~~~~~~~~~~~~
From local Police on friday 13th March 2017........
Attempt Fraud – Herne Rd Oundle – Yesterday(12 May) a male has contacted an elderly lady on the phone saying he was from Barclays bank and stating that she is in need of a new bank card. He took her details and said the card would be with her the next day (today). A male turned up at her door this afternoon with a new card for her and asking to take her old card to recycle it. He left her with a new card which is very convincing to look at and feel. The bank have confirmed it is not them and we can confirm that it is a very good fake card! Linked vehicle to this incident is a grey Mercedes *** registration EY66 ***. If you see this vehicle or have seen this vehicle in your area or had any dealings with them yourself then please contact us asap on 101 and cancel any cards you may have handed over.
Burglary – Sudborough Rd Brigstock - Yesterday(12/5) at approximately 02:11hrs, offender/s have entered a property by snapping the padlocks on the gates. Once inside they gain access by unknown means into the garage which is detached from the house. Items stolen…..2 x quad bikes, trailer, Land rover, horse tack, strimmer, welder and drills. Witness has seen a white Ford Transit in the area at the time of the burglary.
~~~~~~~~~~~~~~~~~~~~~~~~~~~~~~~~~~~~~~~~~~~~~~~~~~~~~~~~~~~~~~~~~~~~
3 Reports from Northants Horsewatch this week........
"27-APR – Titchmarsh. Witness has spotted 2x persons in a green Mitsubishi pickup truck enter victims field and approach a lambing shed, persons are seen to exit the vehicle and approach the front door, witness has then sprinted towards the persons who have spotted her. Persons have then quickly got into the vehicle and drove off at speed out of the gate. There are 30 lambs in the lambing shed and no one has permission to enter the field. On the balance of probabilities victim believed persons were attempting to burgle property."
.....& also on 27th April......"Last night intruders gained entry to a locked stable in Sywell, field gate with sheep in left open, electric fence disabled and access to a stable with pregnant ewes in attempted but nothing taken. Is being reported to police."
& "22-APR to 24-APR – Thorpe Waterville. Victim notices lamb missing from field, then the next night notices another lamb missing (in the meantime one of the lambs is found on the road and returned victim). Victim checks CCTV and discovers over two nights two different vehicles at the lamb field."
~~~~~~~~~~~~~~~~~~~~~~~~~~~~~~~~~~~~~~~~~~~~~~~~~~~~~~~~~~~~~~~~~~~~
"Incidents of note reported between Tuesday 18 April and Thursday 20 April.......
Attempted burglary of a property in Barnards Way, Brigstock between 8.15am and 10.32 offender/s disturbed."
From local Police this morning 19th April.....
"Burglary in Oundle - Between the 15th of April at 00:00hrs and 18th at 05:38, En Tout Cas Tennis Court Ltd on the Nene Valley Industrial Est was broken into. Offender/s have smashed through security gates and then through the office wall and have stolen the safe. They also hotwired their vehicle a Vauxhall Antara reg T500 ETC in silver.
Burglary in Yarwell - At 03:15hrs this morning occupants are woken by loud banging on the front door. On going downstairs they see a large hole has been made in the door window and the house keys in the door have been taken which also had the family vehicle keys on, a grey Audi RS4 Reg P5 UMP which was stolen.
Nottingham Knockers – A resident from Brigstock called yesterday to say a male had approached their house trying to sell items from a bag saying they were on a rehabilitation programme. When resident declined this male became unhappy and swore under his breath before walking off. He was then seen kicking doors to other properties. This took place at around 6pm.
Please call us if you have anything similar and get as best a description of the individual as possible." [Call 101]
From local Police.....
Incidents of note reported between Monday 10 April and Monday 17 April.....
Attempted break-in of a detached garage in Grebe Close, Thrapston between 11pm on Monday 10 April and 6.45am on Tuesday 11 April. No entry gained.
Theft of a motor vehicle in Heron Avenue, Thrapston between 10.30pm and 11.43pm on Saturday 15 April.
Break-in of a secure garage of a property in Latham Street, Brigstock between 2pm and 3pm on Monday 3 April. Untidy search, nothing taken.
Break-in of a shed on the allotments on Denford Road, Ringstead between 11.50am on Thursday 6 April and 11.50am on Monday 10 April. Items stolen.
From 4th April......Please be aware over the past few days we have suffered House burglaries in the Millfields area of Oundle. Money and jewellery have been targeted.
Also in the Bellamy road area, offenders have removed cash from a property.
Another house burglary in the Glapthorn road area of Oundle. At this point it is not clear what has been taken.
Intruders were also seen in the Southwick area so please remain vigilant.
Overnight [tues 28th March] there has been the following crime…Theft from motor vehicle – Washingley Rd, Lutton; Theft from motor vehicle – Grafton Rd, Brigstock; Theft of oil from tank – Grafton Rd, Brigstock.
~~~~~~~~~~~~~~~~~~~~~~~~~~~~~~~~~~~~~~~~~~~~~~~~~~~~~~~~~~~~~~~~~~~~
"Please be aware that over the last 24 hours we have suffered a series of house burglaries in the area.....
House burglary in the area of Clare Drive in Thrapston; unknown offenders force a rear window to gain entry.
Glapthorn village; unknown offenders have forced the rear door to gain entry.
Wood Road, Kings Cliffe; again offenders target rear door to gain entry.
In all cases jewellery and money have been targeted.
There has also been a non dwelling burglary in the area of Duddington and a large amount of tools and machinery have been stolen.
Please remain vigilant and report anything suspicious on 101 and in an emergency ring 999"
~~~~~~~~~~~~~~~~~~~~~~~~~~~~~~~~~~~~~~~~~~~~~~~~~~~~~~~~~~~~~~~~~~~~
Information received from Oundle Police tonight....(Monday 6th March 2017)........
"We have had some reports of suspicious vehicles over the past few days which we would like you to be aware of.
NU13*** – White Peugeot Panel van – entered a business yard in Easton on the Hill, male occupant was looking for scrap and batteries. Male also payed attention to other buildings on site. Potentially the same vehicle was seen at a smallholding on Cliffe Road around the same time, but the vehicle made off when seen by occupant.
KB57*** – Black Vauxhall Astra – Vehicle stopped in Warmington today with 4 males, knocking on doors selling items ("Nottingham Knockers) males requested to leave area but were later seen in Fotheringhay and Nassington.
AJ55*** – Silver Ford Transit Panel Van – entered a private yard in Brigstock by opening the gates, before being challenged by owner. Male was aggressive and stated he had an appointment but this wasn't the case.
WJ62*** – White Volkswagen Caddy Panel Van – male and vehicle seen in suspicious circumstances this evening around The Drove / Collyns Way area of Collyweston. Male had been seen walking around the nearby area and then returned to his vehicle when seen by residents.
This email has also been shared with our Business Watch and Neighbourhood Watch.
Thank you to all who continue to get in touch with information.
Please report any suspicious incidents to police on 101 / 999 in an emergency."
~~~~~~~~~~~~~~~~~~~~~~~~~~~~~~~~~~~~~~~~~~~~~~~~~~~~~~~~~~~~~~~~~~~~
There's been a spate of burglaries in the Oundle area lately. Many of these happened during the day time! Please do not be afraid to call the Police if you see anyone or a vehicle acting suspiciously in your area.
Below you will find a sheet the Police use to get the details down. Please print this off, or take notes from it, and leave it near your window. It tells you all the things to look for and note down when you feel something isn't right with a person or vehicle, which you can then pass onto the Police control room on #101.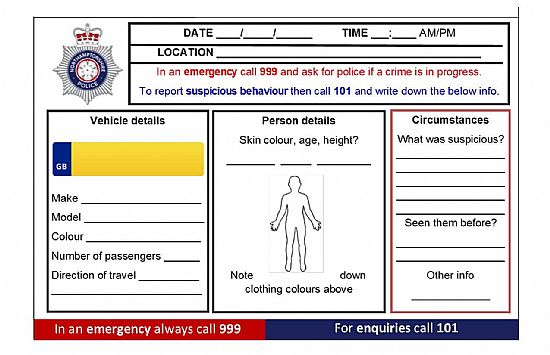 ~~~~~~~~~~~~~~~~~~~~~~~~~~~~~~~~~~~~~~~~~~~~~~~~~~~~~~~~~~~~~~~~~~~~
Neighbourhood Watch from local Police....
"There was a theft of machinery overnight Thurs 5th/6th January in Luddington In The Brook. Nothing seen and no CCTV but the sound of a tractor was heard in the early hours which may or may not have been connected.
Also, at 5am on Sunday morning, 8th January, someone was heard trying to forcibly open the front door to a property in Brigstock whilst the owners were inside. This property is down a private track so it is not a case of mistaken house. Person was not seen and there is no CCTV in the area so please stay vigilant.
Please may I remind everyone to lock up or alarm valuables especially those outside which are an easy target for opportunists.
If you have any information which could help us with enquiries then please do not hesitate to contact us."
~~~~~~~~~~~~~~~~~~~~~~~~~~~~~~~~~~~~~~~~~~~~~~~~~~~~~~~~~~~~~~~~~~~~
Local crime in the past week.......
"Between the 2nd January 14:00hrs and 4th January 10:30hrs, 'PC Howard Ltd' of Kings Cliffe have had an un-motorised livestock trailer stolen from outside their location. If you have had any sightings of this trailer then please call us.
There has been a pedal cycle stolen from a secure shed in Bulwick where they have forced open the door; occurred between 3rd and 4th January.
Other............
Till snatch in Tesco express Oundle.
Non Dwelling Burglary in Nassington.
Theft of Lawn mower in Bulwick.
Please stay vigilant and if you have any information which may help in the recovery of these items or the prosecution of offenders then please make contact asap." [101]
~~~~~~~~~~~~~~~~~~~~~~~~~~~~~~~~~~~~~~~~~~~~~~~~~~~~~~~~~~~~~~~~~~~~
Message via local police.......(Jan 2017)
"If you use the services of Amazon then the below e-mail could be important to you -
Action Fraud(National Fraud Intelligence Bureau) has received several reports from victims who have been sent convincing looking emails claiming to be from Amazon. The spoofed emails from "service@amazon.co.uk" claim recipients have made an order online and mimic an automatic customer email notification.
The scam email claims recipients have ordered an expensive vintage chandelier. Other reported examples include: Bose stereos, iPhone's and luxury watches.
The emails cleverly state that if recipients haven't authorised the transaction they can click on the help centre link to receive a full refund. The link leads to an authentic-looking website, which asks victims to confirm their name, address, and bank card information.
Amazon says that suspicious e-mails will often contain:
Links to websites that look like Amazon.co.uk, but aren't Amazon.co.uk.
Attachments or prompts to install software on your computer.
Typos or grammatical errors.
Forged (or spoofed) e-mail addresses to make it look like the e-mail is coming from Amazon.co.uk.
Amazon will never ask for personal information to be supplied by e-mail.
You can read more about identifying suspicious emails claiming to be from Amazon by visiting https://www.amazon.co.uk/gp/help/customer/display.html…
To report a fraud or cyber crime, call 0300 123 2040.
Message sent by
Action Fraud (Action Fraud, Administrator, National)"
~~~~~~~~~~~~~~~~~~~~~~~~~~~~~~~~~~~~~~~~~~~~~~~~~~~~~~~~~~~~~~~~~~~~
There have been a number of garage and shed break-ins over the last few weeks in the towns and villages and farms in this area. Please make sure your property and vehicles are secure at all times, and report any suspicious activity.
~~~~~~~~~~~~~~~~~~~~~~~~~~~~~~~~~~~~~~~~~~~~~~~~~~~~~~~~~~~~~~~~~~~~
A farm in Clopton in East Northamptonshire has been subjected to a number of separate incidents during November. These include deer poaching, hare coursing, damage to crops and hedges and the theft of a
lock and chain from a gate. The incidents happened between Monday, 14 November and Saturday, 26
November. Officers are appealing for members of the public to report any suspicious activity in rural areas, and to be on the look out for people with lights or torches in fields at night.
~~~~~~~~~~~~~~~~~~~~~~~~~~~~~~~~~~~~~~~~~~~~~~~~~~~~~~~~~~~~~~~~~~~~
Neighbourhood Watch Alert from Oundle Police..............
"Can I please make you aware of a series of burglaries or attempts across the East Northants area over the last 24 hours. With reports of burglary offences in Aldwincle, Titchmarsh, Thrapston and Rushden. Reports suggest a group of 4 to 5 males forcing entry to the homes of elderly residents. A dark coloured vehicle was seen in most cases.
Please can you report any suspicious activity and ring 101 in an emergency 999"
Burglary of a property in Main Street, Aldwincle between 7.10pm and 7.15pm Sunday 20 November; disturbed, so nothing taken.
A property was broken into in Sackville Street, Thrapston between 7.45pm and 8.10pm on Sunday 20 November; items stolen.
~~~~~~~~~~~~~~~~~~~~~~~~~~~~~~~~~~~~~~~~~~~~~~~~~~~~~~~~~~~~~~~~~~~~
Neighbourhood Watch message from Police.........
VEHICLE CRIME - THRAPSTON, OUNDLE, & VILLAGES
We appear to have been affected by the historic issue of Culprits 'entering' vehicles by unknown means!
Overnight Monday Thrapston was affected. However this has happened on many occasions in Oundle and occasionally in surrounding villages.
1 x Heron Avenue, Thrapston
2 x Highfield Avenue, Thrapston
ALL three vehicles show no signs of damage, so logic would suggest the vehicle has been left unlocked!
One of the vehicles is a van with a rear sliding door; as vans wear, these sliding doors don't always fully engage their locks.
Two of the vehicles have had items stolen from within.
CLICK YOUR CAR KEY FOB…..
…… THEN TUG YOUR DOOR HANDLE TO DOUBLE CHECK ITS LOCKED PLEASE!!
~~~~~~~~~~~~~~~~~~~~~~~~~~~~~~~~~~~~~~~~~~~~~~~~~~~~~~~~~~~~~~~~~~~~
From Oundle Police's Safer Community Team......
"Please could I bring to your attention that we are getting calls in relation to 'distraction burglaries'. This is where a person/s say they are from a company and have come to check something at the property (gas/water). They can either work alone or with others. When there is more than one of them, one will generally keep the resident talking whilst the other removes goods from the home. On working alone they make sure that the resident leaves them alone to do the 'checks' that they are there for.
If you ever have anyone knock at your door claiming to be there from a company to check something at your home address then may I remind you to ask for ID. If you are still unsure ring the company that they say they are from to check if they have anyone actually working in the area. Do not ring a number they give you as it could be false and call someone who is in on the scam.
Please could you raise awareness with elderly residents in and around your area as they are more of a target for this crime.
If you feel someone is fake then do not allow them in and call us on 101 so we can come and check them out."
~~~~~~~~~~~~~~~~~~~~~~~~~~~~~~~~~~~~~~~~~~~~~~~~~~~~~~~~~~~~~~~~~~~~
Neighbourhood Watch Alert.........
"We have been asked to circulate these details by Kettering Police to make members aware of possible criminal activities.
On Friday 28th October a property in Desborough was visited by two men thought to be aged between 19 and 25. The occupants of the house are an elderly couple where the wife suffers with Altzheimers and the husband is severely disabled with arthritis.
The men knocked on the front door at approximately 4pm and because a number of health workers attend the house regularly, the wife answered the door. One man stood in front of her and did all the talking although the lady does not recall all that was said. He had a card with writing on but she was unable to read it. He is reported as saying something about a Smile Survey. At this point the lady automatically smiled when the second man, who was out of her line of sight at the side of the door, quickly took a photo of her smiling. The lady asked whether he had taken a photo and she thinks they may have replied that they made her smile but she cannot be sure.
At that point they left, and the lady states that they did not visit any more houses in the street but simply walked away. Enquiries have been made locally to see if any similar action had been encountered, without success. The concern is that this might be the initial part of a scam with them having a reason to return later.
Please ensure any similar activities are reported to the Police on 101, and if anyone has information about a Smile Survey, please would they report to T/PS Sean Marshall by email on sean.marshall@northants.pnn.police.uk ".
~~~~~~~~~~~~~~~~~~~~~~~~~~~~~~~~~~~~~~~~~~~~~~~~~~~~~~~~~~~~~~~~~~~~
Neighbourhood Watch................
St Rumbalds Church in Stoke Doyle has had the contents of their charity box stolen. Lid has been forced open and chain broken. Occurred on Sunday morning 23rd Oct between 10:30hrs and 11:00hrs.
There has been a burglary at Booths Garden studios on Weldon Road, Upper Benefield. Offender/s have broken into 3 containers and items stolen. Occurred between Sat 22nd Oct at 13:00hrs and Mon 24th Oct at 09:00hrs.
Burglary at En Tout Cas Tennis Court Ltd, Nene Valley Business Park in Oundle. Offender/s have jimmied open the office window and conducted an untidy search. Gained entry into a container but nothing stolen. Occurred on Mon 24th between 18:00hrs and 23:20hrs.
Burglary Unit 6 Eastwood Road, Oundle. Offender/s have forced open the front door causing the window to shatter. Once inside untidy search conducted and items stolen. Occurred between Mon 24th at 23:00hrs and Tues 25th at 07:30hrs.
If you have any information in regards to these above crimes or any other crimes that have occurred in your area then please get in contact on 101.
~~~~~~~~~~~~~~~~~~~~~~~~~~~~~~~~~~~~~~~~~~~~~~~~~~~~~~~~~~~~~~~~~~~~
ALDWINCLE – ATTEMPTED BREAK IN AT VILLAGE SHOP
Overnight FRI/SAT (14/15th Oct) unknown culprits have repeatedly smashed the store window, no entry gained , nothing stolen.
This is the second time in approx a month that this store has been targeted.
SHOPLIFTING THRAPSTON – GOOD RESULT
A few days ago a known offender left the Co-op in Thrapston without paying for goods. An off duty policeman got involved & the culprit was detained shortly afterwards when officers attended.
~~~~~~~~~~~~~~~~~~~~~~~~~~~~~~~~~~~~~~~~~~~~~~~~~~~~~~~~~~~~~~~~~~~~
Neighbourhood watch alert..........
There has been a theft of lead from the church roof in Harringworth along with some metal. This was reported to the police on 10th Oct but it's possible this occurred as early as 28th Sept. Churches are once again being targeted so please be vigilant around them especially now the nights are drawing in.
Criminal damage has been caused to a downstairs window on Blackpot Lane in Oundle. It has the marks of someone trying to jemmy the window open. This has occurred between 3rd and 10th October.
Ring 101 if you can help with information.
~~~~~~~~~~~~~~~~~~~~~~~~~~~~~~~~~~~~~~~~~~~~~~~~~~~~~~~~~~~~~~~~~~~~
TITCHMARSH – STOLEN BIKES
Tues 27 Sept between 07.00 & 19.00 two custom bikes were stolen from a Summer House in Titchmarsh.
There are many specialist bikes in our neighbourhoods in sheds, even in sheds in front gardens.
1, PLEASE SECURE or relocate high spec bikes to a more secure location
2, IF NOT, SECURE that location better.
3,PHOTOGRAPH your bike & check your household insurance to ensure all cycles worth over £500 are listed individually otherwise the insurance company will only pay out to the standard limit!
~~~~~~~~~~~~~~~~~~~~~~~~~~~~~~~~~~~~~~~~~~~~~~~~~~~~~~~~~~~~~~~~~~~~
A white Ford Transit van was seen in suspicious circumstances at 2am 24th September in Apethorpe. Please be vigilant and report if seen again.
A white van with a trailer was also seen at 6am on the 22nd September with 3 men. They were taking the digger machine from the grass area on Elms close in Kings Cliffe, this was later reported as stolen.
~~~~~~~~~~~~~~~~~~~~~~~~~~~~~~~~~~~~~~~~~~~~~~~~~~~~~~~~~~~~~~~~~~~~
STOKE DOYLE – BURGLARY
Overnight Weds 31st August / Thurs 1st September
Culprits have broken into a garage and stolen tools from within.
Also a patio window was broken on an unoccupied renovation building.
ALDWINKLE – THEFT FROM VAN - 31 Aug? - Resident leaves Wallet & Food Bag on front seat on INSECURE VAN. unknown culprit removes
YARWELL –BURGLARY DWELLING - 26/30 AUG - Resident returns back from holiday to find his house has been subject to a burglary. Culprits have entered via a pain of glass being removed. -Unsure what items have been stolen.
Over the bank holiday weekend there were two illegal raves set up. One at the old bomb disposal site in Kings Cliffe and the other at Gretton. There was a high police presence at both sites which are now cleared of people. We hope to have kept any disruption to a minimum. A big thank you to the local resident who made the initial call to us. They thought it was strange when they saw around 20 cars and van's driving slowly north of the town so called it in. We managed to confiscate some of the equipment and generators due to this call.
Theft from motor vehicle – Between 27th and 28th August overnight number plates were stolen from a vehicle on a driveway in Thurning.
Between 26th and 28th August almost a full tank of red diesel was stolen from a tractor in Thurning.
Burglary non-dwelling – A garage was broken into in Aldwincle. Offenders gained access via farmers field and cut through the fencing to gain entry. Cut the locks and caused damage to the garage and took items from within. They also cut the locks off two containers but nothing taken from them.
In Laxton between the 20th and 26th August there was a trailer stolen from a field and a catalytic convertor stolen from a vehicle.
Rear window of a vehicle was smashed in Aldwincle nothing seen or heard occurred between the 25th 18:30hrs and 26th 12:30hrs.
~~~~~~~~~~~~~~~~~~~~~~~~~~~~~~~~~~~~~~~~~~~~~~~~~~~~~~~~~~~~~~~~~~~~
TITCHMARSH - 2 x SHED BREAK INs
Between 15 -19 AUG
Unknown culprits have broken into two locked sheds in the Titchmarsh area, one in Islington(hamlet closest to the A605) & one close to St Andrews close, Titchmarsh.
A rotivator has been stolen from one of the sheds so a vehicle of some description would have been used.
*****
Wigsthorpe – House Burglary
Between 10.00 & 22.00hrs SAT 20 AUG
Entry via patio doors, jewellery appears to have been taken.
*****
Titchmarsh - House Burglary
Between 14 & 19 AUG
Property entered by unknown means, a large quantity of electrical leisure items stolen.
Glove marks & footprint lifted by scenes of crime officers.
*****
YARWELL – Vehicle crime
SUN 21 AUG 17.30 – 17.45 hrs
Old Sulehay road Nr Yarwell
Local resident finds his car side Window smashed - 2 x 6 pk of water stolen
*****
FOTHERINGHAY – Vehicle crime
SUN 21 AUG 7.30- 18.30
Elton road, Fotheringhay
Visitor to our county spent the day fishing only to come back to his vehicle to find his side window smashed & over £2000 of fishing equipment stolen from the vehicle.
*****
Watch for signs of illegal raves over the bank holiday weekend............
POLICE are asking residents across the county, especially those living in rural areas, to be on the lookout for illegal raves this bank holiday weekend.
Officers rely on information from the public when dealing with raves, either to be made aware one is happening, or to be informed about suspicious activity that could indicate one is being planned.

"People will usually ring us to complain about traffic movements and anti-social behaviour as people start to turn-up to a rave, but they can also help by being alert to anything that is out of the ordinary in their community, no matter how trivial it may seem.

"In many cases those people who are looking to set-up a rave will visit the proposed site a couple of days before the event and I would urge anyone who spots anything out of the ordinary in their village, along a country road or around farm land to please let us know.

"I would also encourage landowners to keep gates secured and to contact police if they see anything unusual or suspicious which may indicate an illegal rave is being planned."

Please call the police if you notice the following in a rural area:
Posters or messages advertising a rave
Cropped bolts on a gate
People in cars or vans stopping to look into a field or climbing over a fence into a field
Flattened or disturbed hedgerows
Anyone acting suspiciously
Please report suspicious activity by calling 101 or via the 'Do it online' button at www.northants.police.uk
~~~~~~~~~~~~~~~~~~~~~~~~~~~~~~~~~~~~~~~~~~~~~~~~~~~~~~~~~~~~~~~~~~~~
Local Neighbourhood Watch Alerts..........
Warmington – Caravan theft Sunday 14th August 13.30-15.30 -
a touring caravan was stolen from a resident property during the above times. Culprits broke the blocking mechanism on the hitch in order to steal the van. A witness saw a caravan being towed at speed exiting the Dexter Way estate.
Vehicle parked in driveway of a property in North Street, Titchmarsh was broken into between 3.15am and 3.25am Thursday 11 August - items were stolen.
[A resident in Titchmarsh woke in the early hours of 11th August to the sound of his dogs barking. He looked out of the window to see a van pulling off from his driveway. He went to check his own van to find it had been interfered with. The chain had been broken and a hydraulic breaker had been taken].
Attempted burglary of a property in High Street, Islip between 11.30pm Wednesday 10 August and 7pm Thursday 11 August.
Entry gained to insecure garden shed in Wentworth Drive, Oundle between 5pm Saturday 6 August and 2.30pm Wednesday 10 August and items have been removed.
[Two bikes were stolen between 6th August and the 10th from an insecure shed in Oundle].
Overnight 10th/11th August there was a push bike stolen from a front garden in Easton on the Hill.
A caravan has been stolen from a property in Hillcrest Close, Thrapston between 1.29am and 1.59am on Monday 8 August.

Persons have gained entry to secure site in High Street, Thrapston between 5.15pm Saturday 6 August and 7.45am Monday 8 August items have been stolen.

Items have been removed from a vehicle parked in driveway in Springfield Avenue, Thrapston between 5pm Sunday 7 August and 8am Monday 8 August.
If you have any information about any of these events, please contact the Police on 101 or the independent charity Crimestoppers anonymously on 0800 555 111.
~~~~~~~~~~~~~~~~~~~~~~~~~~~~~~~~~~~~~~~~~~~~~~~~~~~~~~~~~~~~~~~~~~~~
Neighbourhood Watch Alert from local Police (02.08.2016)......."We had a call early hours of this morning stating that a loud bang was heard and a male was seen looking through windows in the Woodlands Lane area of Brigstock. Police attended the area but the male had made off. This was a great spot by a resident who called us straight away".
Neighbourhood Watch Alert from local Police (31.07.2016).......
"Just to make you all aware that we have had another attempted theft of lead from a church, All Saints Church in Laxton. Offenders have taken the lead from the roof and hidden it around the corner behind a wall; person reporting believes they were going to come back for it."
Neighbourhood Watch Alert from local Police (27.07.2016).......
"I just wanted to make you all aware that we have had a spate of car key burglaries in the surrounding area just recently.
Homes are being broken into, vehicle keys taken, & then the vehicle.
We have had 3 in Brigstock. One of the vehicles was dumped in Geddington where they have then stolen a Range Rover in the same time frame.
Two days ago there was one in Stanion and last night a further two. One of the owners was in Dubai and watched it happening on his webcam at 01:45hrs this morning.
Please keep your keys somewhere safe with you when in your home.
If you see or hear anything suspicious then please call us".
From Oundle Police 25th July 2016........
"Once again there has been an attempted theft of lead at Luddington church. Our caller rang in at 03:43hrs this morning. They woke to a loud noise and saw offenders with lead. They turned on an outside light which made the offenders jump into a van and speed off. Please be vigilant and report any suspicious vehicles near to your local church as we are finding an increase in lead theft from churches. If anyone has or knows of anyone with CCTV in the Luddington area then please get in contact with us. We would really like to identify these offenders and the vehicle they are using."
~~~~~~~~~~~~~~~~~~~~~~~~~~~~~~~~~~~~~~~~~~~~~~~~~~~~~~~~~~~~~~~~~~~~
Brigstock Burglaries - Friday 22 July:
Latham Street Brigstock, culprits enter property via the front downstairs window. (Jemmied with flat blade, maybe screw driver). Quick untidy search, nothing taken, early hours 01:30-01:50 of friday 22nd July. Owners heard a bang downstairs and called the police. Officers attended that night
High Street Brigstock , culprits enter property before 0300 Fri at the rear downstairs window. Offenders couldn't get past the porch door, but left the double gate wide open in preparation to take the prestige vehicle off the drive. Culprits then entered through another downstairs window to get into the house and stole a wallet and a set of keys to a Y plate vehicle which was then stolen.
POINT OF NOTE - Prestige vehicle keys were with the owner in the bedroom at the time, this wise move by the resident resulted in this vehicle NOT being stolen.
A second property in the High Street,Brigstock - At around 0215 two offenders are caught on cctv going up drive, where they jemmy the rear downstairs window and gain access. Untidy search of office and kitchen but took nothing.
POINT OF NOTE – CCTV footage of culprits on residents CCTV is being processed & shared with other forces.
Numberplate thefts:
Theft of front and rear number plates from a vehicle parked in Oundle over night between the hours of 17:00hrs 18th and 08:00hrs 19th July.
Another theft of rear and front number plates from a vehicle in Oundle on Millfields Road. Occurred between 18th at 19:00hrs and 19th at 14:30hrs.
If you see anyone looking or acting suspiciously around a vehicle especially in the evenings, then please call us on 101.
Garage / Shed break-ins:
Wakerley - An out building had the lock removed and two pedal cycles were stolen. This occurred between the 19th July at 23:00hrs and 20th at 09:00hrs.
Collyweston – Resident was woken and looked outside to see items from his garage out in the road. The lock had been cut off but believed they were disturbed. House backs onto an open field and believed they entered and exited this way. This occurred between 19th at 22:22hrs and 20th at 05:00hrs.
Easton on the Hill – Offender/s enter secured garden and remove tools from the shed. This occurred between 17th at 18:00hrs and 20th at 19:45hrs.
ADVISORY
Please pass word about to NOT leave windows open when leaving your property or at night time especially downstairs windows. An opportunist will take advantage of this.
Please do not leave valuables in unattended vehicles making it easy for offenders.
It is also the start of the summer drink drive campaign which already has seen results with 1 arrested and charged in the Oundle area.
Do not leave dogs or any other animal in a vehicle and make sure they have water and shelter available to them at all times.
There has been a rise in lead theft from East-Northamptonshire Church roofs. Please be vigilant if you live nearby a church or visit one. If you see anyone looking or acting suspicious please contact us. We believe the thefts are being committed during the evenings.
If you have any information which may help with our enquiries then please contact us on 101.
~~~~~~~~~~~~~~~~~~~~~~~~~~~~~~~~~~~~~~~~~~~~~~~~~~~~~~~~~~~~~~~~~
- Please be aware of the below incident which occurred in Laxton on 30th June at approx. 11:40am.
A 6ft male speaking with a Birmingham accent trying to buy Land Rovers from a villager. He would not take no for an answer. He argued with the owner for a short time then drove off in a grey Audi A4 saloon, reg DA** *XO. The vehicle drove through the village towards the A43 road slowly.
Please keep an eye out for the above vehicle.
- Over the weekend there has been a burglary at the Augean PLC facility near PC Howards farm, Stamford Road, Kings Cliffe. Access has been forced through from the Howards farm track leading alongside the building, where 2 large generators and a Volvo E27 Excavator and telehandler have been stolen.
There is a tracking device on the excavator which is in the process of being tracked by the owner company.
Please be aware that large thefts of this scale are usually linked to organised crime.
- There has also been a burglary at Lower Benefield between 2300 3rd July - 0700hrs 4th July– downstairs window has been forced and entry gained. Handbag and cash stolen.
- Overnight Sat18th/Sun19th June there were 3 thefts from motor vehicles broken into in the Titchmarsh area; all 3 vehicles were insecure; radio & CDs, golfclubs, & work tools were stolen. Also in Titchmarsh a bicycle was stolen overnight which was also not secured. PLEASE SECURE ALL YOUR VEHICLES & DON'T LEAVE VALUABLES IN THEM OVERNIGHT.
- Theft from vehicle – Mill Street, Duddington – 15th June 0900-1145hrs – Work van broken into whilst parked on the road, window smashed and unknown number of tools stolen from inside.
- Brigstock – Vehicle crime – Bridge Street - petrol cap forcefully removed from vehicle, no further damage or fuel stolen. 11th / 12th June.
- Brigstock – Burglary – Olde Three Cocks, High Street – Offender enters pub through insecure rear fire door, disturbed by owner. 13th June 0200hrs.
- Kingscliffe – Burglary – Orchard Lane - Farm buildings entered, untidy searches. Items damaged in the process. 12th June 1330 – 1730hrs
- Kingscliffe – Criminal damage – Orchard Lane – Stable damaged with unknown instrument, windscreen of horsebox also smashed. 12th June 0900 – 1800hrs
- Kingscliffe – Park Street – Shop stand shelf and cash box stolen – 12th / 13th June
Please report any incidents to police on 101 / 999 in an emergency.